5 years ago
Building Innovation in a School Construction Project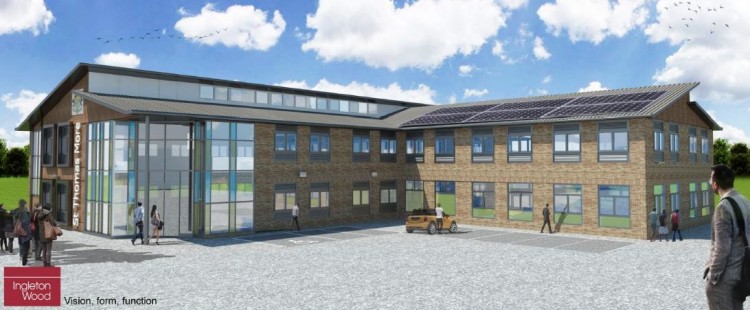 Working within live environments, such as schools, presents unique challenges that a construction company must face to deliver a project successfully.
School construction projects require innovative yet practical designs, which are then effectively managed on site to produce exceptional results. Fulfilling this whilst overseeing costs, time and – most importantly – the safety of staff and students requires great attention to detail.
At the end of January, Davis Construction were pleased to be awarded an education contract at St Thomas More High School in Southend, valued at £2.6million. In this article, we go into the details of the project, consider the challenges we will face and how we intend to overcome these and discuss the key factors that secured us the contract.
An Overview: St Thomas More High School Construction Project
The project consists of the design and construction of a two-storey teaching block, complete with all services and external works, which incorporates the redevelopment of playground areas outside the new build and the construction of three tennis courts.
As this is a design and build project, we are not only responsible for the construction of the school, but also for the design process. Choosing the right architects for the job is key, and we discuss what to look for later on in this article. For this particular project, we are working with Osel Architecture, who will design the scheme in line with the planning permissions.
The building itself will be a steel-frame construction, finished with brickwork, cladding and aluminium windows. This type of build is very common, especially within school construction, due to the flexibility to change the design within the steel structure.
Challenge 1: Working to a Strict Timescale
Schools are often faced with tight timescales (and not to mention budgets!), so we work closely with the school throughout every stage of the project to maintain a smooth process. In this case, we will be liaising with Ingleton Wood to develop an open line of communication that will ensure the efficient and successful completion of the new build.
At Davis Construction, we have developed a clearly defined process that helps us to guarantee that we stick to the agreed budget. This begins with a comprehensive preparation stage.
The design process is already underway, with the structural engineer currently working on the foundations, drainage and steel frame design, ahead of works starting on site in March. The architects have also begun their design, which is a lot more involved than the structural design, therefore, more time and resources need to be allocated.
The site establishment, which includes installing welfare and hoardings, takes approximately one week. Following all preparation, the construction of a new school building will run the course of a 40-week program, starting on the 26th February.
Challenge 2: Choosing The Right Team
Unlike the majority of our projects, the employment of the architects ties Davis Construction much more closely with the design, rather than just the physical build of the school. It is important when choosing an architect to select the right company for the development. Without a great design, a great build cannot follow.
There are three fundamental checks that we recommend any construction company look for when choosing the right architect to work with:
Ensuring the person/company is competent in your particular sector – for this project, we needed a company with extensive experience in school construction;
Ask for examples of work and recently completed projects, preferably that display similar projects or builds;
Check references – we always try to work from recommendations from contractors who we trust, but always check with the previous employers and companies they have worked with.
You can find out more about choosing the right team to deliver your construction project in this article.
How Davis Construction Won This Construction Contract
All projects are secured by winning the bid with a good tender. This is reliant on several factors, from cost to company compatibility. In order to win this contract, we homed in on three factors that we are very passionate about:
Providing the best possible price. We don't add on unnecessary costs to our tenders and our exhaustive planning phase ensures we stick to this budget whilst delivering exceptional quality.
Our unrivalled health and safety practices. We ensure minimal risk with safety systems that are continuously developed and thoroughly implemented. In a live environment, such as a school, there is a duty of care for the safety of all teachers and pupils, therefore a safe and secure site is paramount.
Our social values. Within the education construction industry in Essex, we are known for going the extra mile and speaking directly to teachers and students through our health and safety assemblies for schools, which communicate health and safety risks on site.
Before any construction work commences, we will be providing a construction site safety presentation to fully inform the students of St Thomas More, plus their teachers and parents, what steps are required to stay safe during the construction project.
Find out more about our Construction Site Safety in Schools presentations here.
As the students of St Thomas More are older than many of the other schools we have worked with, our Managing Director, Tom Davis, will also be giving a talk on careers in construction. This will focus especially on roles such as project management and quantity surveyors, which are often overlooked careers when considering the construction industry as a whole.
Building Innovation in School Construction
Davis Construction has an extensive portfolio of construction projects within the education sector. Our specialised knowledge and understanding, in addition to our exceptional standard of projects delivered on time and on budget, make us one of the go-to companies for construction in schools.
If you have a similar project in mind and would like to find out more about our services and how Davis Construction could help you, email us at info@davisconstruction.co.uk or call 01702 601000. You can also keep up to date with our current projects on Facebook and Twitter.
You can also receive exclusive information and updates through our monthly newsletter. Sign up here.
---