4 years ago
Breaking Ground at Chase High School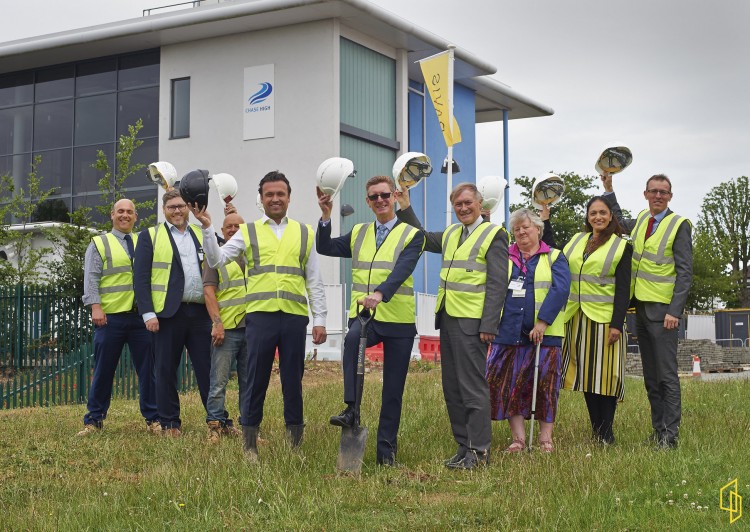 Having the works of our most recent Education project St Thomas More School draw to a close, we are glad to have the opportunity to enhance another local school. Chase High School is a £4million, year-long building project, and having now commenced the site set up, and hosted the Breaking Ground ceremony we are eager to start making progress.
Southend MP Sir David Amess attended the symbolic moment on Tuesday 4 June, joining ourselves, senior teachers, council representatives and leading property and construction consultants Ingleton Wood on site.
It was a significant and traditional moment that lies within the construction industry and we are pleased to share the Breaking Ground tradition with the local community, and bring to light how important it is to us to be part of shaping Education for local students and school staff.
Once complete there will be a new three-storey classroom block, complete with all services and external works, alongside redevelopment of the external playground and netball courts, a car park, as well as fully refurbished science areas and main reception.
Sir David said: "I am delighted to attend the groundbreaking ceremony. The three-storey building will be a great asset to the school but more importantly, it will provide a fresh environment and extra space in which our children can learn. I would like to commend the work of everyone involved in this project and I join with the school's staff and students in looking forward to its completion in 2020."
There are 1,017 students at the school, but the new year block means that will increase to 1,330 pupils by September 2024. Chase High School is part of the Brentwood Academies Trust and head teacher of the school, Andrew James, said: "It really will transform the school. We can't wait to see the final result. This is a great opportunity to provide an updated suite of rooms for our humanities subjects such as Geography, History, RE and Sociology.
Our specialist knowledge of construction in the education sector along with our history of delivering high-quality projects has made us one of the go-to school construction companies in the south of England.
Tom Davis, managing director of Davis Construction, said "We have a specialist knowledge of construction in the Education sector and feel it is important to work closely with the school involved, via open lines of communication throughout each and every stage of the project. Hence why we were keen to mark the occasion right from the start!"
Running through to our core is the belief that a teacher can perform their role best when they're given the right tools for the job, and this starts with their working environment. We're committed to delivering innovative yet practical school builds, renovations and refurbishments that inspire students and staff alike. We are confident we will bring the Chase High School vision to life and are eager to get started, so wish us luck as we embark on our new venture.
---